Cheers,
Mark & the Collie Crew...
"Life for me is ROUGH and I love the three of them"
Jackie Garvin and the Collie Rescue Crew - Aug 2010
---
OSCAR
Oscar is our walking miracle. He has caused us here in rescue to feel anxiety, sadness, sorrow, love, happiness, laughter and pure astonishment.
Oscar's story starts when Rescue was contacted by Amanda, a rescue volunteer for AAPS working down Gippsland way, in March 2010. She had just been contacted by a puppy "breeder" advising her that a collie had been dropped off to her by an older gent that had been placed in an aged care facility. The puppy "breeder" had apparently promised this older gentleman that she would help find his dog a new home. Oscar was only three years old and had lived with this gent and a much older collie all of his 3 years.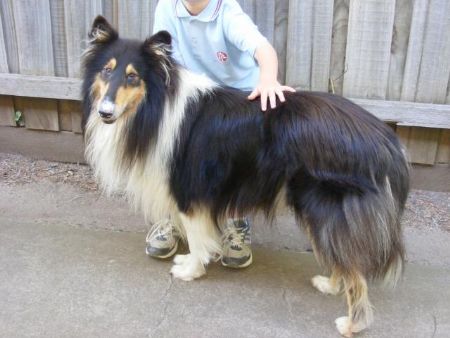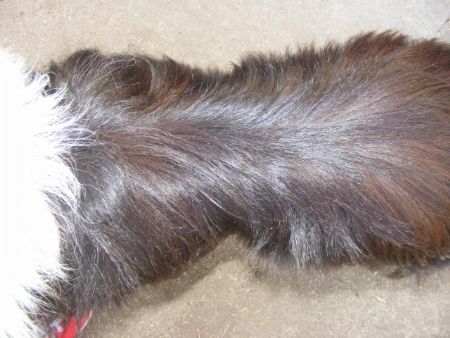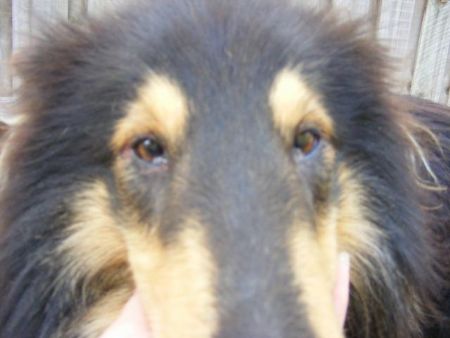 Oscar came to us in terrible condition. His weight was only 17.1 kg the day we collected him from Amanda. He had a lump just above his withers, and he had been vomiting for the three days previously. We were going to have a challenge on our hands.
After a quick trip to the vet he went off to his foster carers, who within days of having him there, fell in love Oscar. But Oscar was still not happy. We couldn't get him to eat more than a handful of food a day, but he hadn't vomited since he came into care, which was a promising sign at least. We tried a number of foods to try and entice him with everything from fresh sardines, steak, chicken, and basically anything we thought we could get into him, but he still ate practically nothing. Three weeks later we did a weigh in and we had only managed to put 0.1 kg of weight onto him. That was a whopping 17.2 kg's of male collie, but still, he wasn't going backwards.
While he was still in care a lady looking for a collie was referred to us and it seemed like an ideal home for him, if only we could get him stabilized and gaining some weight, he had a perfect home ready and waiting. We were all at our wits end trying to figure out what was wrong. Finally it was decided that one of our other fosters be put in with Oscar, who was the only dog at our foster carers at the time, to see if a bit of doggie competition would stimulate his appetite. BINGO! That did the trick nicely! He had been fretting for collie company the whole time. Within five days he gained 0.5 kg's.
This is not the end of Oscar's story though. Rescue and the potential adopters agreed this lovely boy should be given every chance possible, and the adopters took on the Oscar challenge. He still needed an operation to remove the lump, but after what he had already been though this would be easy for him. He then spent two more weeks eating "like a refugee" and had gained a lovely 1 kg and was now ready for his surgery. Sadly the lump that was removed was discovered to be a tumor. It even had its own established blood supply. We were all devastated. After all that Oscar had gone through, and the improvement in his health had been so fantastic, his life was now in danger again, this time from that horrible C word, cancer. After two days of anxiously waiting, the tumor's biopsy results came back. It was benign! Oscar was now in the running to live a long and happy life again.
What and emotional rollercoaster this boy has sent us on. Oscar is now living happily, still gaining weight, and bouncing around like a puppy again with his new collie buddy Molly, and his humans.
Jackie Garvin and the Collie Rescue Crew - June 2010
Two weeks after this story was written Oscar's battle for life came to a tragic end. His professional dog walker, who was under strict instruction not to, let him off his lead in a park beside a busy road and he ran off. Two days later we received information that a dog matching his description was found the same day he went missing. Dead by the side of a road.
R.I.P. beautiful boy. 16.06.2010
---

Ellie

Ellie came to us in June 2009 from the RSPCA. She was surrendered to RSPCA because her owner's children had all grown up and so nobody was there to play with her or look after her anymore. As you can see from the photos below she was in a dreadful state when she came into foster care. Her coat was a mess. RSPCA had treated her for fly blown ears, but other than that health problem she was a happy healthy dog.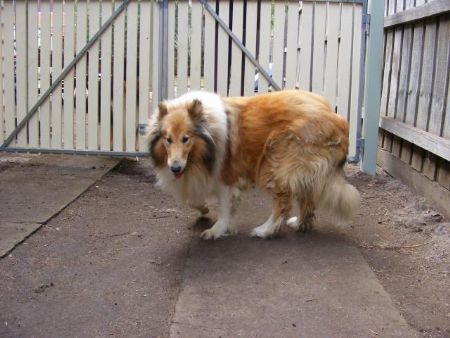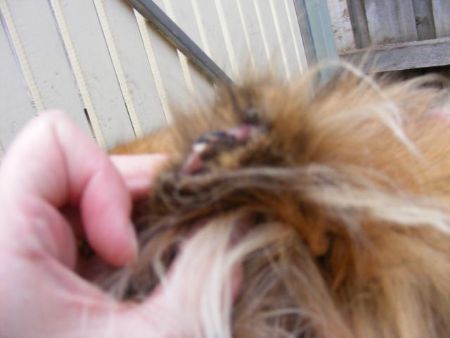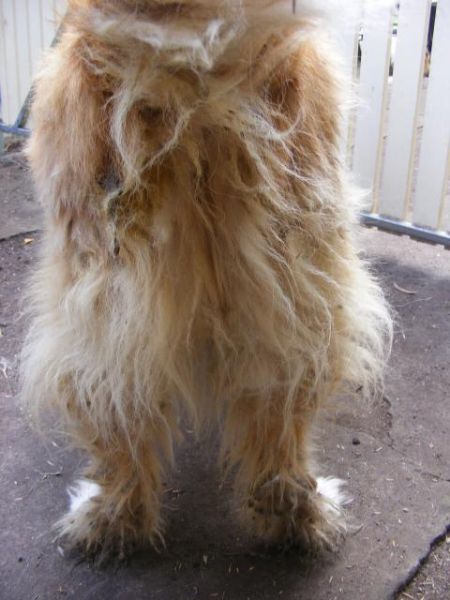 It was a three day grooming marathon that got this girl cleaned up. Underneath all that mud, poo, wee and burr cement that had managed to compact on her belly and legs we discovered a lovely happy healthy collie.
Ellie is one of the lucky ones that is able to come into care with few or no issues, get treated as a pampered pooch for a few weeks while being assessed before going off to her new forever home to be completely spoilt in her new life.
The only issue we had with Ellie was that she a serious habit of trying to wag her tail off, but her new owners were happy to take her on, tail wagging habit and all.
Now, I don't know how it happened, but a few weeks after she was adopted I saw her again at a Rescue function and discovered to my amazement that the new owners actually managed to make the tail wagging habit worse!
Oh well, Ces't la vie!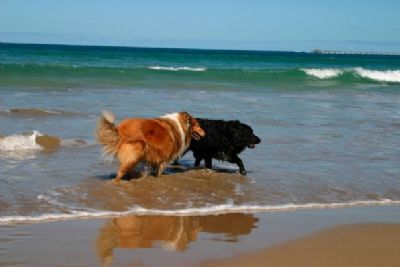 Ellie is now living happily with Justin, her new bouncing play buddy, and her new family that adore her.
Jackie Garvin and the Collie Rescue Crew - June 2010
---
JACK
Jack was surrendered to a local pound in 2009 when his previous owners decided that they were unable to cope with him pulling washing off the clothes lines and tearing up his backyard with all his running up and down the fence line. He was only 2yrs old.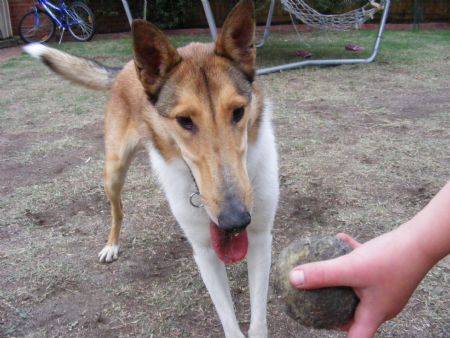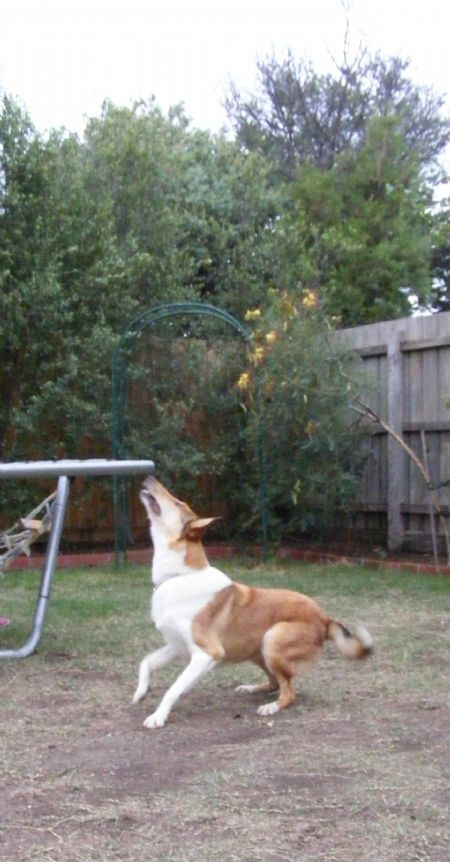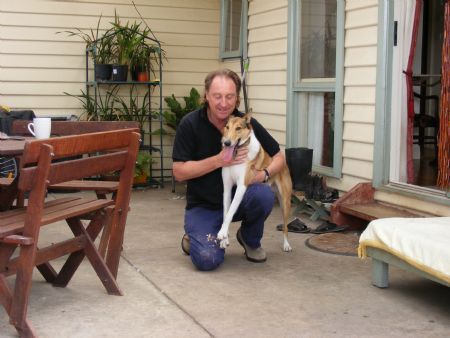 This, unfortunately, is a common situation that can arise when new owners of dogs don't realize that dogs need physical as well as mental stimulation. It is especially seen with younger dogs, and more so if they are an intelligent breed that have been bred for a purpose, like herding etc. Sometimes we have people contact Rescue that have a similar situation to the one Jack was in, and they don't know how to cope. We assist by advising them of methods that can be put in place for them to use so that they and the dog can benefit. Sometimes it can be as easy as explaining to them what purpose the collie was bred for in the past, or it maybe that we recommend that they have a expert behaviorist come and assess a situation in person. Usually it is somewhere in between.
Part of our organizations objectives are to educate as well as rescue. This is why we continue to attend events like Big Dogs Day Out and Pet Expo with the CCV, and various other events each year, and we also keep a forum for those who want to ask questions to gain advice from other forum members.
Jack has now been adopted by an active family that was willing to work with him and give him some basic training. He now walks every day, sometimes twice a day, and this seems to have alleviated the problem immensely. It comes back to that old saying "The time and effort you put in to something will show with what result you get out of it". Jack is now a bit of a lounge lizard in the evening, happy to sit quietly with his family and enjoy the sights and sounds going on around him, just as long as he gets that walk during the day…….
Jackie Garvin and the Victorian Collie Rescue Crew - June 2010
---
Wellington
Wellington is a rescued 8 yr old pound dog and adopted by Karen in May 2008. Let's hear how she and her husband Tate are enjoying their new charge……

Hey guys, just thought it was time for a Wellington update . . . mostly because I'm sure all my friends are sick of me talking about him ALL THE TIME so it's time to brag to people who will truly enjoy it.

We had a really lovely experience the other day. My housemate's boyfriend was fixing her bike in the front driveway and Wellie was laying around with us when the neighbours kids from across the court came over and looked at him from the edge of the drive. They said they were scared of him, so I said he was really nice and they could pet him if they wanted. The two older ones (probably 4 and 6ish) finally came and patted him. The boy (the older one) decided once was enough but once the little girl started patting him she just cuddled right up with him and we basically had to pry her off him to go back inside.

He's a good ambassador for dogs, for rescue and for Collies, too. It was just amazing to watch these little children who were convinced he was going to EAT them to really start to bond with him within about 20 minutes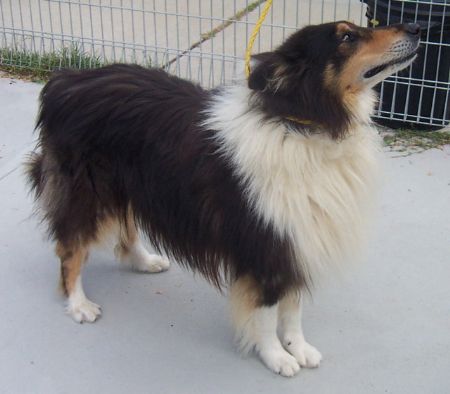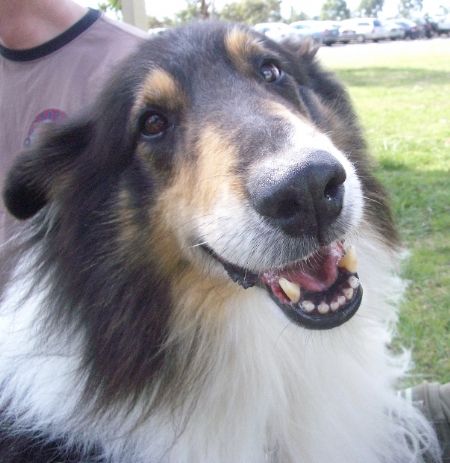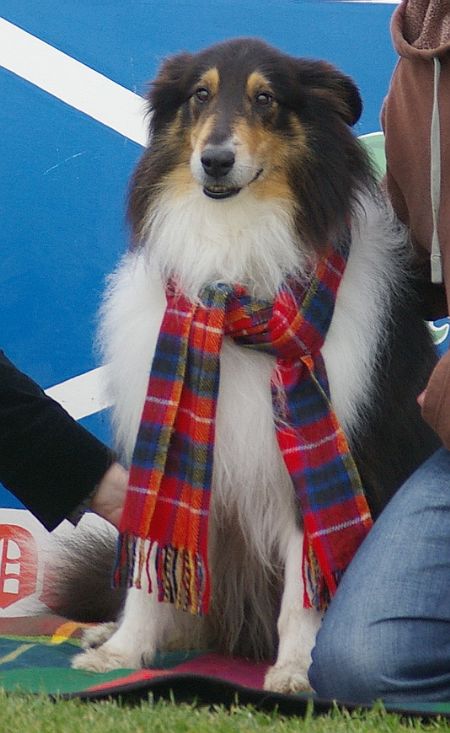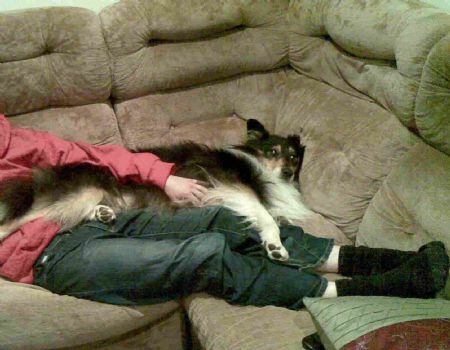 We've also discovered that he only barks when playing. So if you are running around or throwing toys for him he runs and barks and turns into a crazy puppy! But he definitely knows how to switch it off and settle down when play time is over. The only toy he'll actually chase and bring back consistently is this stupid little squeaky lion (the ones from the Big Dog Day Out) and he goes bananas for it! If you throw it in our yard, he'll chase it, grab it, toss it in the air, pounce on it . . . it is too fun to watch, I'll have to see if I can put together a video of it.

He's also got great house manners. We can put food on our little side tables in the lounge - even CHEESE and biscuits when people come over and he won't touch it. He'll stare at it longingly, drool all over the floor and give you sad faces, but he won't grab it. And he's worked out that he's not to come up on the couch while we are eating (yes, we are pathetic and eat in the lounge sometimes) but as soon as you put your plate down, he's right there in your lap. He also loves to be brushed, which makes life easy. As soon as you walk into the room with the brushes in your hand he sits up tall waiting for you to begin and then pretty much falls asleep while you groom.

We still can't figure out why someone saw fit to get rid of him, but who cares? We think we are the luckiest people in the world to have him now. It's been a little over a month and I can't imagine life without Wellington.
Wellington is now working as a Therapy Dog with dialysis patients in Cranbourne. He is also a regular at many Dogs Victoria events so keep an eye out for him at the next event.
Jackie Garvin and the Victorian Collie Rescue Crew - Article from the Collie Chatter May 2010 edition
He was with us for only a short while but bought so much joy to so many people. Our unofficial poster boy.
---
Bush Fire Babies
We had three lovely collies come in from Coldstream Animal Aid last September 2009 that have since become affectionately known to us at Rescue as our Bush Fire babies.

In February this year, 2009, the Black Saturday fires caused a family with two pet collies to loose everything they owned. Their house was, tragically, completely razed to the ground, along with all their belongings, not unlike a lot of other people in the bush fire regions.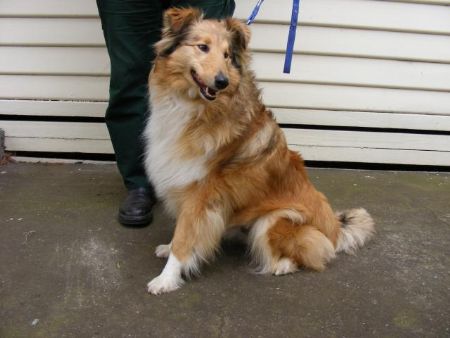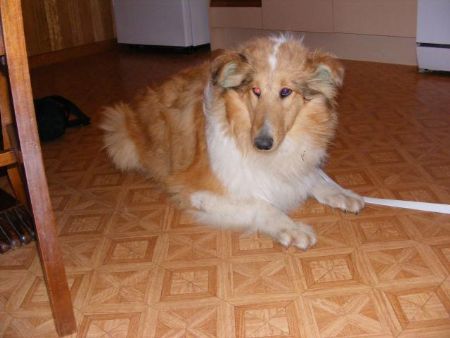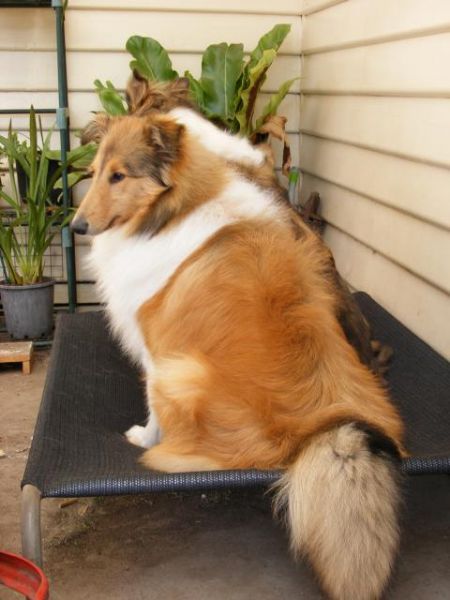 Beauty - Now a Delta Dog Jazz - Now a loved pet Sienna - Now enjoying
These two collies were kindly taken into care by Coldstream Animal Aid in conjunction with the RSPCA bush fire animal support program that was in place. Whilst in care the female of the two dogs gave birth to three lovely female puppies. All five dogs were boarded for a while at Coldstream, and when the owner thought that his life had stabilised itself enough, he took them all back to his temporary accommodation, with the intention of finding good homes for his pups.

Now for the sad part of the story. After a period of time the neighbours started complaining to the council about the dogs being held in his temporary accommodation, a unit type style of housing. No dogs were supposed to be allowed. But the owner still didn't have his house built after the fires, or the fences up on his property in Kinglake, and the council insisted that the dogs be removed from the property. The owner put them all back into care/boarding at Coldstream again. It was about then that Rescue became involved with the case.

Victorian Collie Rescue was contacted and took into care three of the five dogs that consisted of two pups and the mother of the pups.
Since that eventful day when the dogs came into Rescue's care, three families that have been patiently waiting on our list for months for their anticipated new family member were contacted, and these Bush Fire Babies have now been placed into their new homes.

I would also like to congratulate Coldstream Animal Aid for keeping these dogs in such beautiful condition. I have never seen Collies come out of a pound/boarding kennel environment with such fantastically groomed coats.
Jackie Garvin and the Victorian Collie Rescue Crew - Article from the Collie Chatter Dec 2009 edition
---
Hamish

Early in July in 2007 Victorian Collie Rescue received a call from a pound saying that they had a Collie Rough. Sadly, this boy had been picked up by the Ranger as a stray, and his previous family had not reclaimed him. So the pound asked if we would be interested in taking him into our care and putting him into our re-homing program. Of course we immediately flew into action and it was arranged that we would pick him up the next day after he had been de-sexed etc.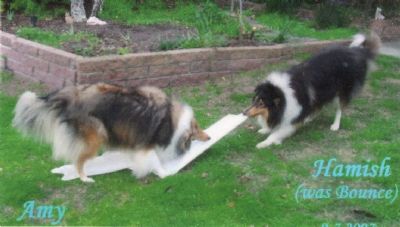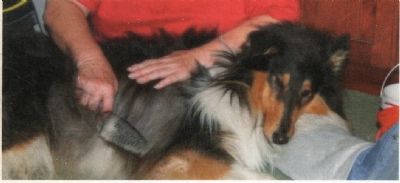 He arrived at his foster carers home and immediately bounced around everywhere, he was very excited to be out of "jail". He was only around 2 years of age when he came to Vic Collie Rescue, he needed some grooming, and training, but overall was a healthy and well adjusted fellow.
This boy was not with us long and he was adopted by a wonderful couple who already had another Collie. He was renamed Hamish and is now firmly entrenched into his new home and is going to obedience school with his new Mum and Dad.
Jackie Garvin and the Victorian Collie Rescue Crew - Article from the Collie Chatter June 2009 edition
---
Laddie joins the Grey Nomads
Laddie was a stray, who sadly was not reclaimed by his family he had strayed from. He ended up in a pound in Melbourne and luckily Rescue found out he was there. Laddie failed the pounds assessment test, and if we had not been there to take this lovely boy into our rescue program, he would have been put to sleep. The pound determined that he was aged, that he showed early signs of arthritis, and that he had a chronic ear infection. Laddie was estimated to be of mature age, 7-8 years old, when he was found.
Vic Collie Rescue managed to convince the pound that we were still prepared to give this boy a chance. Our foster carer for Laddie drove a very long distance at short notice to collect him from the pound on his "due date". Well, it seems that Laddie weaved his magical charm on his foster carer very quickly, because he was adopted by them very soon after coming into their care. Laddie now lives with a younger smooth collie, Lily, and they are best friends. His human Mum and Dad adore him and he returns their love 1,000 times over. He is fit and healthy now and his ear infections have all been cured.
He enjoys an active lifestyle getting lots of walks on the beach where he lives, and spends each winter holidays in Qld with his devoted family.
Jackie Garvin and the Victorian Collie Rescue Crew - Article from the Collie Chatter Feb 2009 edition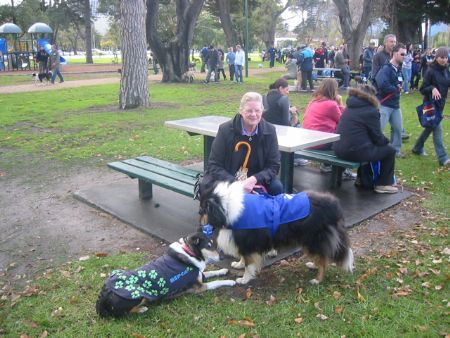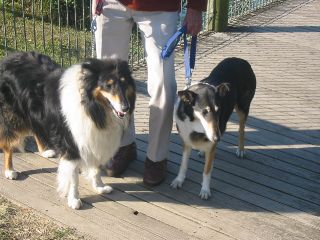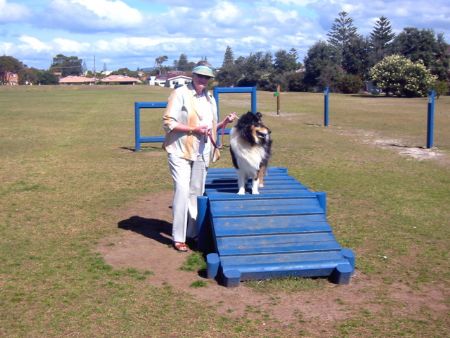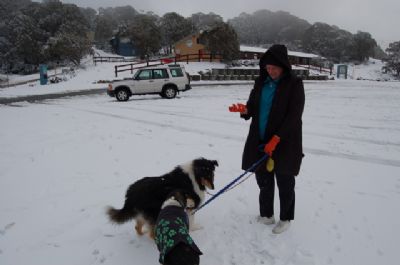 ---
Our Sweet Mandy
One of our very sad cases is dear Mandy. She was a stray in the pound and never reclaimed by her owners, which is not surprising as Mandy had obviously been subjected to abuse in her previous "home". Mandy had a dreadful wound on her back/rump area, which looked very much like she had been hit by a shovel. It was quite long and very deep, but luckily did not become infected thanks to the pound ranger's attention. The wound has healed over time but hair will never grow in that area again.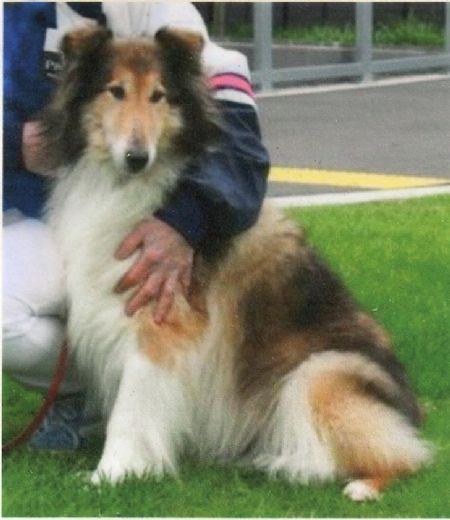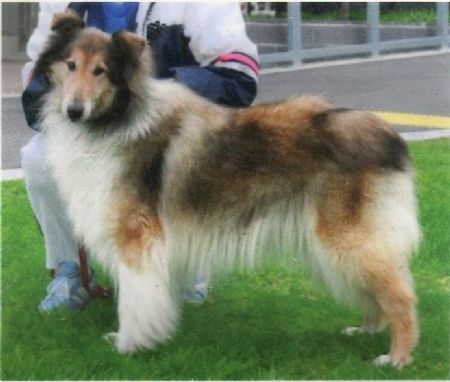 When Vic Collie Rescue visited Mandy in the pound she was nothing but a shell of a collie, there was no life or light in her eyes. She was released from the pound to us in a shocking state both mentally and physically. Over time, Mandy improved sufficiently to enable her to be happy with her foster carer, and several months further on began to trust her foster carer. We decided not to re-home Mandy, and her foster carer offered to give her a permanent home. Mandy is still improving, and will continue to improve under her foster carers loving guidance, but we doubt she will ever be able to go into any other home. Thank you Kaye Reeves for taking this lovely girl into your heart.
Jackie Garvin and the Victorian Collie Rescue Crew - Article from the Collie Chatter Aug 2009 edition
R.I.P. 2010
---
Harley
Harley is a lovely 6-7 yr old tri-coloured boy that was surrendered to our Western Australian OzCollie Rescue representative in June 08. The reason we were told that he was handed in was because the owners couldn't afford to keep him. We understand that this was at least the third home he had known.
The day that he was surrendered was also the day that his photo was first posted on our Collie Rescue forum website. A potential adopter that had been watching this website for months, and had already been approved as an adopter by Rescue, was waiting for just the right dog to come along, and within five minutes of posting that photo an email was received by Collie Rescue from her telling us that she was interested in Harley.
It was love at first sight.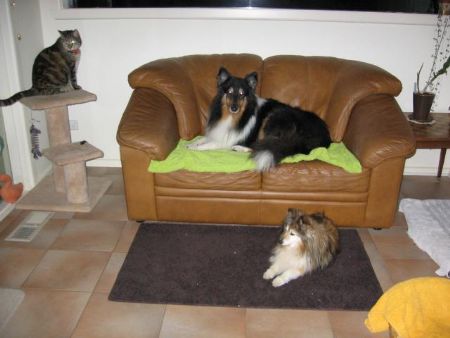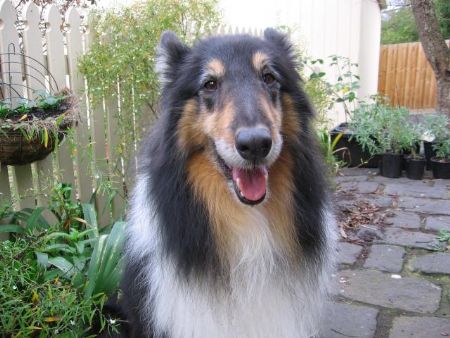 After some quick long distance temperament checking to see if Harley would fit into the potential adopter's home life the decision was made to bring Harley to Melbourne to start his new life.
Thanks to a donation by Jetpets (Virgin Airlines) and Pet Rescue of a pet transport flight from Perth to Melbourne, Harley was able to be bought to Melbourne at no cost to Collie Rescue and settled into his home very quickly.
By all reports received by Rescue from the new adopter, Harley has now found his new forever home. Just see how comfortable he is in his new home in the photo above!
Jackie Garvin and the Victorian Collie Rescue Crew - Article from the Collie Chatter Oct 2009 edition
R.I.P. Harley who lost his fight after a short battle with lymphoma
14.10.2011
---
Sassie
Sassie came to us in late 2008 as a 12yr old girl with a little old age arthritis, and completely shaved by her previous owner that had surrendered her to their local pound. The reasons for her surrender? Apparently the pound were told by her owner "We don't want her anymore because all she does is walk around the backyard all day", and also when asked if they knew who the breeder was? "we got her about 12 yrs ago from somewhere in the country".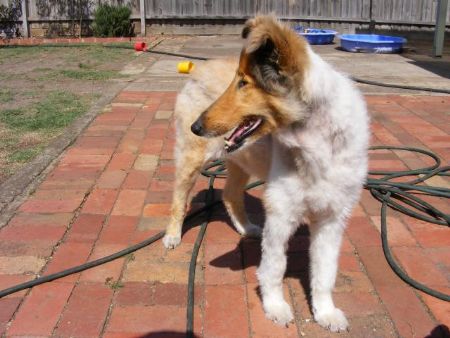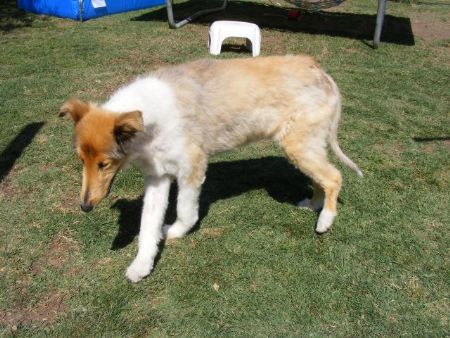 When she came to us she was a little shy and typically underweight, and we doubt she had ever been solicialised with any other dogs in her life, not aggressive at all, but no doggie manners, but she was brilliant with children.
She was the most confusing dog I've ever had to assess. She had great teeth, no gray on her muzzle and a beautiful playful temperament, but her body was old and couldn't keep up with her mind. She also had to have an operation at the pound to have a cyst removed, so was still recovering from that too. She had the head and mind of a young dog, but the body of an old dog.
After assessing Sassie she was put on a commercial joint powder to see if that would help her ageing bones, it did, then a some weeks later she was advertised available for adoption. We didn't hold out much hope that she would be adopted because of her age and health issues, and I was enjoying having this adorable girl around so much I was really half hoping that nobody would want to adopt her so she would have to stay here forever. She was such a sweetie. But it seems that if you wait long enough there is a home out there that suits every dog.

She was seen advertised by a lovely young lady that lives on her own with two other dogs, an old Sheltie and a young Lab X. De-Arne fell in love with Sassie as soon as she saw her photo, and when Sassie met De-Arne for the first time, she took to De-Arne like she was already part of De-Arne's family. After the usual home check, and meet and greet of the dogs, it seemed the perfect home for Sassie to spend her twilight years.
Sassie is now living happily ever after in her new home with her new companions, and she has especially grown attached to the 18 month old Lab X, Flyn, who is the perfect young gentleman/dog. She and Flyn sleep back to back every night.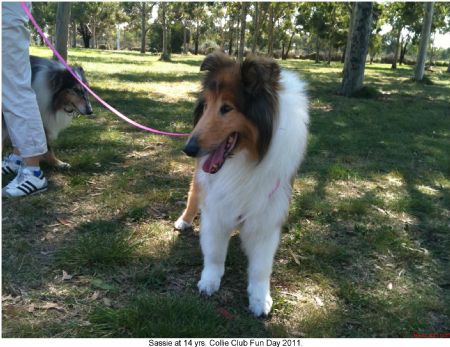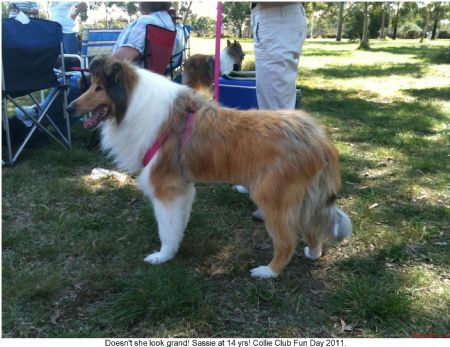 We caught up with Sassie at the Collie Club Fun Day March 2011. Not bad for 14+yrs old!
Thanks De-Arne for taking this old girl into your heart.

I am so glad I had the opportunity to meet Sassie and could ensure that she went to her perfect forever home. Its times like these you are reminded why you do rescue.
Jackie Garvin and the Victorian Collie Rescue Crew - Article from the Collie Chatter April 2009 edition
R.I.P. Sassie 25.01.2012
---
Manfred
Mani came to us a few months ago, late 2009, as a surrender from the country and is approx 3-4 yrs old. His coat was in shocking condition, and he didn't respond to his original name, but that wasn't surprising because when we were obtaining his details from his previous owner she couldn't even recall his name! A volunteer kindly offered to bring Mani down to Melbourne for us, (many thanks to Bronwen), and at the collection point when Bronwen asked the previous owners what his diet was, and if had he been fed that day they had to make a phone call to a family member to find out! We must at least be thankful that the previous owners were referred to Victorian Collie Rescue by the local pound rather than him being impounded. Collies don't do very well in pounds.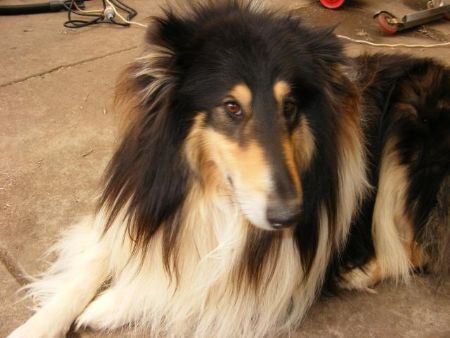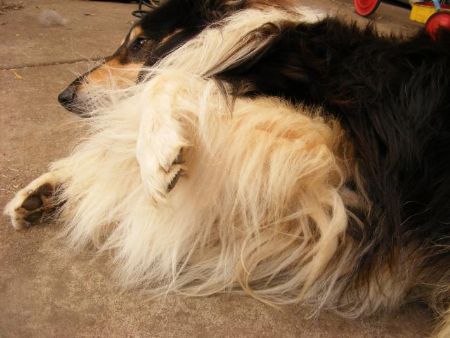 I doubt that Mani had ever been in a car, or even walked on a lead, but he had the most beautiful temperament. He was a big boy and got the name Mani because he reminded my children of Manfred, the woolly mammoth in "Ice Age". He was a gentle giant.

A week or so after he settled in to his foster home we noticed that Mani just loved children, and we also decided that he was really just a big puppy in a dog's body that was ready and craving for proper training, someone to romp with, and lots of cuddles and love.

It didn't take long before we found a family on our waiting list that had been waiting for the perfect new family member to come along. This family had been waiting for quite a few months, knowing and understanding that it can sometimes be a while before a suitable "family" rescue can be found, but they were patient, and rewarded for their patience.

Mani has now been officially adopted and is living in his new home with the boy he now owns, 10 yr old Chandler, and Chandlers family, which also includes a new collie buddy, Willow. Another collie has gone off to their perfect home.
Jackie Garvin and the Victorian Collie Rescue Crew - Article from the Collie Chatter Feb 2010 edition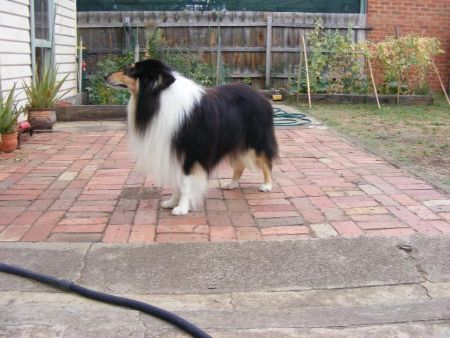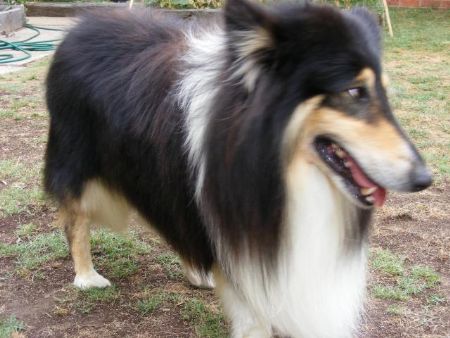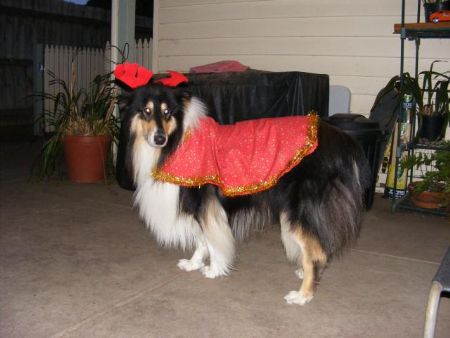 ---
Bonnie and Marty
In October 2005 Victorian Collie Rescue received a call to say that there was an elderly couple of dogs in a Victorian country pound. One was an old Collie and her mate was a Japanese Chin boy. These guys had been surrendered by their owner who was no longer able to care for them.

Sadly, both these guys were on the older side and they both relied on each other greatly - so it was preferable to keep them together if at all possible. We knew it was going to be hard to rehome these guys together, not many people want 2 dogs. Or they already have 1 dog so adopting 2 extras is out of the question. Plus with both being on the older side it was going to be a very special person who would adopt them.

Following are photo's of Bonnie (the Collie) and Marty (the Japanese Chin) on the day they were released into Vic Collie Rescues care.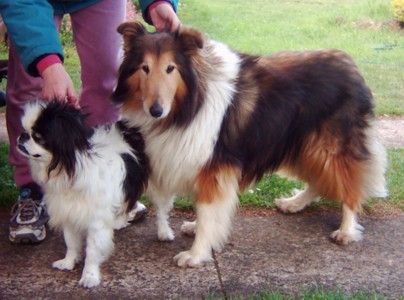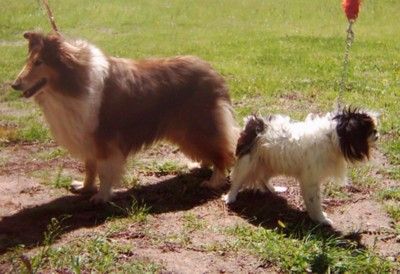 A call was put out on an Australian Show email list to see if anyone on there knew someone who may be able to help give these guys a home. A South Australian show person came to the aide of these two golden oldies and offered a home to both, so a chain of events then evolved and a "road transport" link was devised with several people offering help in getting these 2 from the country Vic pound to their new SA home.

When Vic Collie Rescue actually got these 2 into their hot little hands it became obvious that the Japanese Chin boy was indeed a bit on the large side ... we suspect he is not purebred. But Bonnie was all Collie Rough and she was simply adoreable. A bit wobbly on the old legs but she had been through a stressful week in a pound and seperated from her friend Marty (state govt rules that dogs must not be penned together, meant they had to be in seperate pens) and also a long car trip.

Bonnie & Marty arrived in their SA home to be greeted by their adoring new parents and several Japanese Chins. An urgent bath and groom was ordered (they were a tad smelly on release). Both have the run of the house & yard and are now very much loved and incredibly happy.

Recently Bonnie suffered a mild stroke but she is doing well. She is estimated to be around 12 years old now.

This story was written in 2007 and Bonnie has since passed away. But we know that the last few years of her life were happy years.
R.I.P. Bonnie.
Juliet O'Meara and the Victorian Collie Rescue Crew - Feb 2010
---
Thomas the Tank
Early in 2007 Victorian Collie Rescue discovered a sad male Collie in a pound. He was not responsive at all to the person trying to chat to him through is wire pen door, he just lay there and stared straight ahead.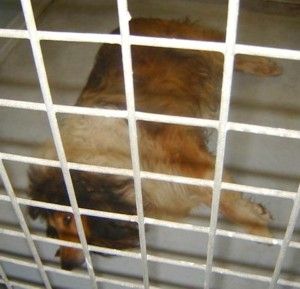 This boy was released by the pound into Vic Collie Rescues care and they promptly named him "Thomas ... the Tank" because he was sooo overweight and he quite simply barrelled through his foster carer and her own Collies, because once he built up steam he could not stop himself. Here he is the day he arrived into foster care ... a totally different dog to the boy who was stressing & pining in the Pound.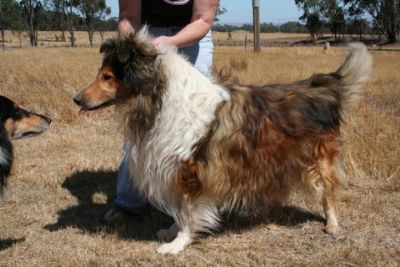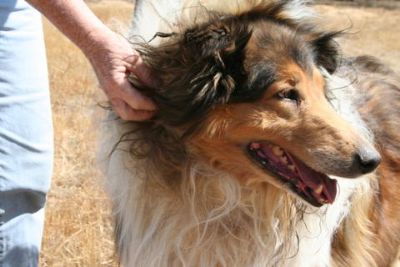 "Thomas" was put on a very strict diet and exercise program at his foster home. And his dreadful coat condition was dealt with over a slow period of several grooming sessions. His bath was very much appreciated by both Thomas and his foster carer. After a period of time, Thomas finally started to lose some of the 50+kg that he arrived with. He then found a fantastic home in NSW and they have continued on his weight loss program.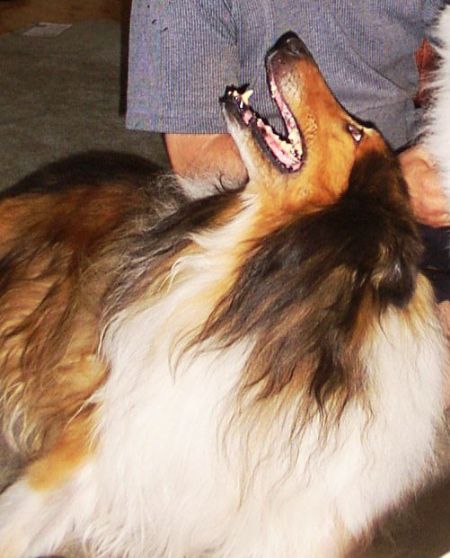 Thomas looking adoringly up at his new "Dad"

Juliet O'Meara and the Victorian Collie Rescue Crew - 2007
Hello all at Victorian Collie Rescue
This morning at 9.30am it was our sad and difficult decision to have to have our lovely
old friend put to sleep. He has given us so much pleasure and returned our love in his
We called him Toz (the Bulldozer) because he never lost that ability
to just push his way to the front for a rub, a pat or a brush. Even on his last morning
where he could hardly stand up, the minute he saw his collar and leash he was at
the door ready to go for a walk.
Our hearts are breaking today but our gratitude to your organisation for allowing us
to give him a new home and a wonderful and happy old age is strong. We are always
recommending people to rescue a dog and no doubt when we heal a little, we will be
knocking once again on your door hoping to find another doggy soul to share our lives
Thank you so much for the work you do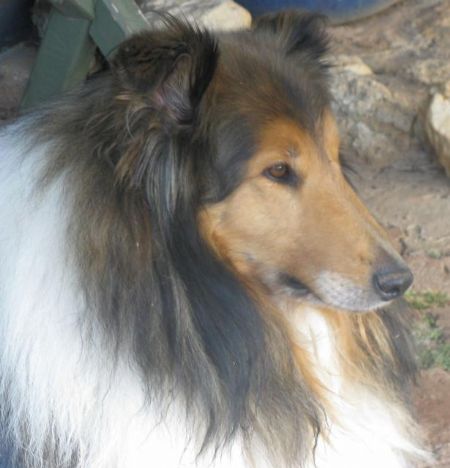 ---
Tylli
Tylli (was Millie) belonged to an elderly lady who has a disabled son and whilst they loved her they were really struggling to care for her. The lady lost her husband a while back, and she could not groom her or exercise her properly. Due to this Millie was surrendered to Victorian Collie Rescue for re-homing.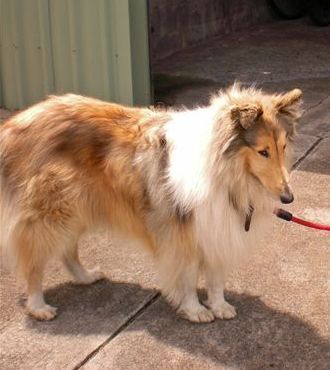 Tylli more then found her paws where she landed, she has a lovely family who spoil her immensely and no longer wants for anything…ever… Every now and then I receive an email from Tylli and she lets me know how everything is going and tells me a little of her new life. I would like to thank both her Dads for making sure she has such a beautiful life.
Hello Uncle Mark

Well, it has a long time since I spoke to you.

Lots has happened I have put on weight and my coat is getting nice and soft and gradually growing back. My 2 dads are really good to me and I am really looked after well and do not want for anything.

I am much better with the vacuum cleaner and do not bark at the hair dryer anymore I just run to the bathroom door and look at it, lawn mowers and some power tools WELL, I still have issues with these, oh and I have found out about these things called kookaburras.

Where I live there are lots of them and I like to chase the noise they make and bark at them mind you, I can never really find them but when I go out if I hear them I just have to run off and try and find them and daddy Ray said he has never ran so much chasing me, sometimes I run all the way across the golf course and he looses sight of me daddy Kevin is not so bad.

The cat thing next door now wears a bell as he has been eating locals if you know what I mean BUT guess what, now I know when the cat thing is in the yard or on the roof, really do not like cats.

I have made sooooooooooo many friends and I really like to play and run with other dogs but some of them like Sam are a bit rough with me but my dads make sure nobody hurts me. The car things are still a worry I don't like to hop into them but I love to put my face out the window when I do and sniff all the smells in the air. My dads have recently taken me to the water, only the edge but I am a little wary.

I still have lots of walkies of which is good as my dads have lost weight. I have some pictures that I will send to you soon and you will see the difference in me.

I am having my first walkies today with Darrin my new friend that will take me out so I do not get bored during the day while my dads are at work earning money to keep me in my new lifestyle that I have become very accustomed too.

My new dads have taken some snaps of me and as you can see I am getting lots of love I have put on wait and my coat is getting softer and longer, OH I AM SOOOOOOOO SPOILT.


Darrin my new dog walking man starts this Today. My dads have him on trial and he will take me out on Tuesday and Thursday for walkies so I do not get bored.

Anyhow, must away to get pretty for Darrin and will talk soon.

Hi to Ryan and all the other kids including the human ones.

Love Tylli XXXXX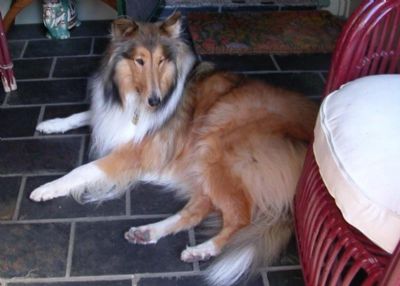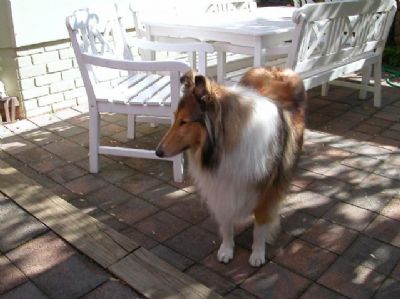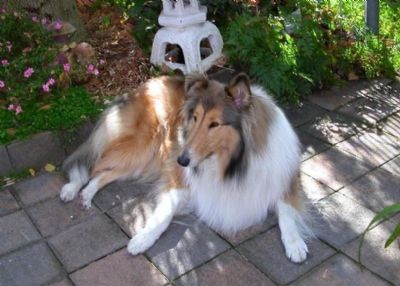 Mark Forde and the Victorian Collie Rescue Crew - May 2008
Click here to return to the top of the page